Strategic Relocation
North American Guide to Safe Places - Third Edition
$35 print -
Digital download on sale: $15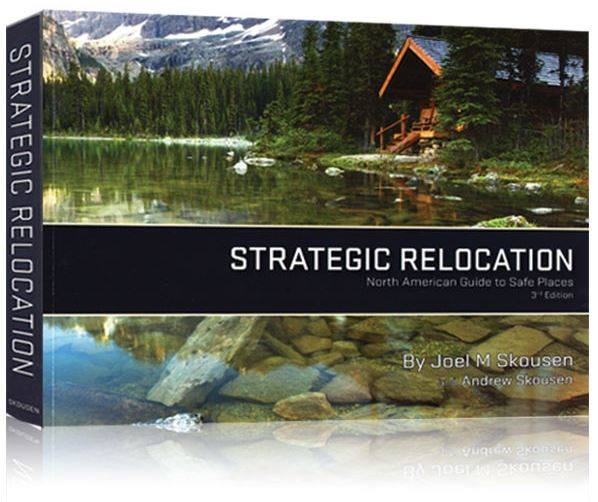 Printed edition is SOLD OUT! The digital edition is available for less than half the price.
New in this Third Edition:
- Expanded text and graphics for
weather
earthquake
nuclear
target areas and more
- Color maps by state with:
Terrain
Public and Private land use
Military target areas
- Foreign relocation possibilities
- National maps showing:
Military targets
Population density
Recommended retreat areas, and much much more.
- Individual analysis of every state and province in Canada
In today's bookstores, it's easy to find information about the "best places" to live. Such literature undoubtedly will concentrate on the positive aspects of life, such as numbers and ratings of golf courses, doctor/patient ratios, warm sunny climates, availability of cultural activities, status of educational institutions and the growth potential of the local economy.
But while these highly-rated metropolitan areas may offer ample opportunities to enhance your lifestyle, what happens when a major crisis strikes? What if:
a labor crisis halts the inflow of food and business goods? Will these communities provide the basic necessities of life?
an economic crisis that threatens your pensions, investments and other so-called "guaranteed" income?
a major earthquake or other natural disaster suddenly upsets the natural social order for months at a time? Could you get out of harm's way if massive social unrest erupts in the wake of a crisis?
an emergency clogs the area's freeways? Do you have contingency plans to exit the area?
the "unthinkable" happens: nuclear war? Or have you thought about the potential of a major terrorist attack on a U.S. city with chemical or biological weapons?
It's easy to dismiss these threats during times of peace and prosperity, but they are real. Not only that, but the probability of such events coming to pass increases every year. Strategic Relocation: North American Guide to Safe Places is an in-depth analysis of North America's safest places to live. This book will help you look ahead for potential threats that most other people fail to see or choose to ignore. It contains a complete discussion of the strategies and relocation contingencies that will help you avoid or mitigate each of the major modern threats, from national disasters to economic collapse to nuclear war.
As a relocation expert, Joel Skousen also offers personal paid consultations for those who want advice on selecting land or working out special contingency retreat plans. He recommends that anyone interested in these services read the book first. Contact Mr. Skousen at joel at joelskousen.com to talk about the book or for consultation. No appointment is necessary.
Order by clicking on "add to cart" at top of page
Sample Map and Analysis Pages from Book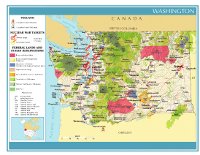 Washington State Strategic Map
Some Strategic Analysis:
The 10 MOST DANGEROUS METRO AREAS FOR VIOLENT CRIME (FORBES.COM):
1. Detroit, MI
2. Memphis, Tn
3. St. Louis, MO
4. Oakland, CA
5. Birmingham, AL
6. Atlanta, GA
7. Baltimore, MD
8. Stockton, CA
9. Cleveland, OH
10 Buffalo, NY
THE TOP 10 MOST DANGEROUS NUCLEAR TARGETS IN OR NEAR A METRO AREA (there are several other primary targets not listed that are not near a major metro)
1. Washington DC /and related bases (major command and control for the President)
2. Colorado Springs, CO (Cheyenne Mtn Control Center, 2 space command/comm bases)
3. Omaha, NE (secondary command and control bases)
4. Seattle, WA (Trident Missile Sub base and numerous Naval Bases)
5. Jacksonville FL/Kings Bay GA (Trident Missile Sub base, Major East Coast Naval Center)
6. San Diego, CA (largest west coast naval complex)
7. Norfolk, VA (major east coast naval complex)
8. Kansas City, MO (Nuclear Manufacturing facility)
9. Cheyenne, WY (Warren AFB, Minute Man and Peacekeeper MX missiles)
10. Great Falls, MT (Malmstrom AFB --Minute Man missiles)
Now for some good news: Here are my current ratings for the TOP 10 MODERATE GROWTH, MEDIUM SIZED METRO AREAS that are relatively safe from strategic threats, or where you have a good chance of mitigating those threats. These are not the best areas, but the areas where most people who need to stay in the job markets will find medium term security:
1. Boise, ID
2. Provo-Orem, UT
3. Beaverton, OR
4. Santa Rosa, CA
5. Greenville, SC
6. Winston-Salem/High Point, NC
7. Austin-San Marcos, TX
8. Grand Rapids, MI
9. Reno, NV
10. Madison, WI
For those of you on a tight budget, here are the TOP 10 MOST ECONOMICAL STATES to live. These ratings take into consideration overall taxes, housing, and cost of living. These ratings also exclude most large metro areas, where costs are much higher than the state average.
1. Arkansas
2. Alabama
3. Louisiana
4. Texas (except Dallas Metroplex)
5. West Virginia
6. Oklahoma
7. South Carolina
8. Mississippi
9. Wisconsin
10. Tennessee
SOME STATES WITH TAX ADVANTAGES: This doesn't tell the whole tax story since all states collect a lot of taxes. However, a person whose financial structure or income structure is different from the average person can take advantage of this by living in a state which doesn't tax his particular form of income or spending patterns. There are more details in my book, "Strategic Relocation"
STATES WITH NO INCOME TAX: Alaska, Florida, Nevada, Tennessee, New Hampshire (but has 5% tax on div/int) , So. Dakota, Texas, Washington, Wyoming.
STATES WITH NO SALES TAX: Alaska, Delaware, Montana, New Hampshire, Oregon,
STATES WITH NO INCOME OR SALES TAXES, BUT HIGH PROPERTY TAXES: Alaska, New Hampshire.
STATES WHO SHARE A BORDER WITH NO SALES TAX/NO INCOME TAX STATE: In these states, you can live in a no income tax state and shop across the border in a no sales tax state: Washington/Oregon Wyoming/Montana So. Dakota/Montana
As you can see, it can be rather enjoyable or frustrating doing this kind of analysis, depending upon where you presently reside. I hope you will enjoy the entire book, which offers many more areas of interest to analyze.